As more and more sophisticated technology takes place in marketing, future CMOs need to be adaptable and dare to hire people with higher skills than themselves. At least if Cecilia Kroon, Director of Brand & Acquisition at Storytel, is to be believed. In CMO Insights, she shares how to build strong teams, her definition of "strong leaders", and the challenges of the audiobook industry.
After some time at an advertising agency in Canada, Cecilia Kroon moved home to Sweden with her family. The idea was that she would continue to work on the agency side, but those plans were crushed when the opportunity to start at Storytel came up. Cecilia describes it as "love at first sight", and it only took a week from the first interview to the signed papers. But let's take it from the beginning.
Cecilia started her career in the banking world. And maybe it was the perfect environment. When Cecilia worked at Nordea, the big banks were on a transformative journey that she would greatly benefit from as a CMO. Not least, reorganizations and structural changes were constantly recurring during Cecilia's years in the banking world. She elaborates:
– It was a lot of fun working in banking at that time. We had big marketing budgets and were very brave in our marketing, and TV advertising was still a power factor in the media landscape. After a while, I wanted to try working on the agency side. I worked at Saatchi Saatchi, Volt and at an advertising agency in Canada for a year. At the Canadian agency, we had over a hundred employees, and everyone worked with Ford, which was both different, educational and fun. Once back in Sweden, I was on my way to the agency side again, but I wanted to go back to the customer side and then Storytel appeared, and the rest is history.
"I think that those who step into a CMO role today can be a little overwhelmed"
Cecilia has been at Storytel since 2018. She was recently interim CMO and has been working since the summer 2023 as Director of Brand & Acquisition at the company. A lot has happened to the role of the CMO, just in recent years. According to Cecilia, the increasing technological development will increase the CMO's demands:
– As a CMO, we need to work closer with our partners, such as Google, Meta and TikTok, because there is so much happening with them all the time. Anyone who steps into a CMO role today can be a little overwhelmed. Above all, the position has become broader, so even if you, as a CMO, do not possess all the skills, you need to surround yourself with talented specialists. You need to hire people who are better than you..
Cecilia continues:
– Although it's very challenging, it's also the most fun job in the world. I wouldn't trade it for anything. The CMO's role is very much affected by the economy; it is, therefore, difficult to answer how it will develop in the future, but if you look back in time, perhaps the sales manager's role was seen as one of the essential functions, I mean that the CMO's role today is at least as necessary.
With around 30 team members, Cecilia works closely with the leaders who report to her. Still, she emphasizes that direct contact with everyone in the marketing department is essential for building team spirit.
– I have several forums where everyone in the marketing department meets. It is important to hear directly from them how they perceive certain things. We have very high standards and value transparency. My team knows almost everything I know. I think it is vital that they have the same knowledge of what is happening in the rest of the company.
Everyone wants a piece of the "ear"
Nowadays, it is not just the attention from the consumers' "eyes" that counts, and many companies want a part of our "ears" as well. There is talk of "share-of-ear". There are podcasts, music streaming services and audiobook services where the line between different formats is increasingly blurred. More is needed for tech companies to grow - the demands for profitable growth have permeated the industry for some time now. When it comes to market trends, Cecilia sees that one of the great opportunities is also one of the biggest challenges:
– Privacy and data have affected us a lot; we get more data but need more accuracy. At the same time, it also means that we look at Marketing Mix Modeling, where we can analyze how much the various channels contribute to our growth, such as TV, social media, etc. We haven't talked about it for ten years, but given that accuracy is getting lower and lower, given GDPR, for example, it will be a continued strategy for us. Again, it reflects how, as a CMO, you must be adaptive and improve your technical skills.
Finally, Cecilia sends along some advice and tips that she wishes she herself had received before jumping into her first role as a CMO.
– I wish I understood the importance of talking to others with similar roles earlier. It doesn't have to be people in the same industry, but the exchange between market people is essential. Reach out to someone you admire or want to learn more from. There's a good chance they'll be happy to share – and they can learn something themselves from the coup. This is a challenging job, and the CMO who claims to have all the answers is lying.
She concludes:
– It is essential that you, as a CMO, are passionate about marketing, but you must remember that it is a leadership role. Dare to hire people who are better than you and get to do their job their way. Build an inclusive and diverse team where different strengths and backgrounds complement each other. It is for me to be a strong leader, for real.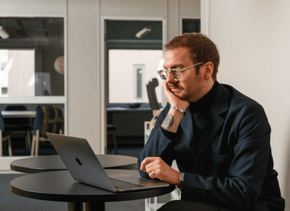 Emil Björnius
Emil works as a senior content marketing manager at Aimfor. Get in touch with him if you want help with moving your brand with storytelling.