A headless CMS (Content Management System) is a modern type of content management system that differs from traditional CMS in that the content can be managed and stored without direct connection to a specific front-end platform, which leads to increased flexibility.
A significant advantage of a headless CMS is that the content can be (re)used for different platforms and devices, from websites to mobile apps and IoT devices, with greater flexibility and adaptability and without duplicating. This article will review headless benefits and list some of our favourite CMSs.
The advantages of a headless CMS
"Headless" is a concept and a technology that has become increasingly popular recently. Unlike traditional CMS, you don't have to worry about how and where the content is used with a headless CMS. All complexity in the form of hosting, technology, various plugins, maintenance, security and performance must, of course, still be managed, but as the content is decoupled from the website's logic and functionality, the result is increased flexibility and stability. In practice, this means that content created in a headless CMS can be reused on your website, app, blog and other sources, but you only need to maintain one version of the content. Which tech stack is used to present the content is, therefore, completely independent of how and where the content is stored.
The disadvantage of a headless CMS is that the website's structure, theme, visual style, etc., must be set up in a separate program and that the content is loaded via API.
However, this does not need to change much for the user of a headless CMS, but the experience of how content administration is still made interactive and smooth (depending on the website's structure).
The best headless CMS providers
There are many different headless platforms, and at Aimfor we have worked with many of them. Here we list some of our favourites:
Sanity
We helped our friends at Aktiespararna set up their new site through Sanity. With Sanity, you get a modern and straightforward interface. Their "editor" is easy to work with and offers "drag and drop" functionality, making your content creation seamless. Sanity is built so that you, the user, can modify the tool according to your preferences, which opens up many different areas of use. Sanity allows you to repurpose content across any channel and a method to help you as a user connect your content to any third-party technology, data source, or framework.
Dato
Junglemap is a company offering e-learning. When they came to us, they needed a new CMS to enable them to take over the website operation eventually. The solution was that we built their new site in Dato, a headless CMS that is flexible and easy to expand, which was vital as they continuously launched new training courses.
With Dato, as a user, you get access to an interface that makes it easy to work with large amounts of data. You can also create plugins for your content very quickly.
Storyblok
Storyblok is considered the world's first headless CMS platform. We helped Swedacco with their new website by building it in Storyblok. The platform provides an intuitive interface when you need to edit your content, reducing the need for technical expertise.
Storyblok's visual editor also enables your website editors to easily preview and change content in real-time, just as it appears in the application.
A headless CMS agency
Before you decide to build your new site in a headless CMS, you must choose a partner who has experience with headless and who can guide you through the challenges you are likely to face with your site project.
Aimfor has broad competence, not only in headless CMS, but also in many areas that are often needed to launch a new website, for example, web design, SEO, Web Management, CRO (conversion optimization) and copywriting.
Contact us if you are curious about how we can help you.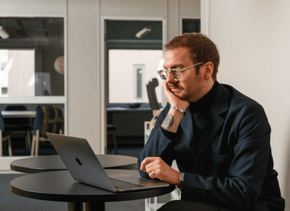 Emil Björnius
Emil works as a senior content marketing manager at Aimfor. Get in touch with him if you want help with moving your brand with storytelling.