Jenny Westerberg has worked in the IT industry more or less her entire career - today, she is CMO at Trivec - which offers payment solutions for restaurants, bars and hotels. Aimfor had a chat with her about which trends she believes will shape marketing in the future, how her industry was affected by the pandemic, other challenges she sees in the restaurant industry and much more.
Jenny Westerberg slipped into the IT industry by chance and soon discovered she enjoyed herself wonderfully. She started as a marketing coordinator at the beginning of the 2000s. There and then there were a lot of print ads, postal mailings and physical events.
– I couldn't even update our website but had to get help from the IT department. That in and of itself changed pretty quickly when I started at Episerver – today Optimizely – as marketing manager, which developed CMS tools. I stayed there for eleven years and helped take the company from a family business to a global player. Today I work as CMO at Trivec. We deliver cash systems and payment solutions to the hotel and restaurant industry and make a similar journey from a smaller company to a more prominent player in the European market, she says.
Jenny admits that the marketing manager's role is getting more expansive as the digital world and the physical world are connected, which means there are several channels to consider when you want to reach out and engage your target groups. She develops her reasoning:
– Today, there is a big emphasis on data and analysis, so you and your team can make intelligent decisions. That you can show what you generate in revenue and pipeline. But it is also essential to focus on the long term and create a strong brand that stands for something and has clear values. Especially in matters of sustainability and social responsibility. Here we in B2B can learn a lot from the B2C side, which has come much further with these pieces.
She continues:
– I also believe that AI technology will help the marketing manager to have time to create exceptional, engaging communication with his team, as it helps with the creation of images, videos, texts, etc. More time can be spent on the creative process than the actual material production. We can also see new roles, such as psychologists and behavioral scientists in the marketing teams who are professionals in how people behave. Because even if everything around us changes rapidly, the human brain does not change so quickly or how we react to different impulses.
"The best thing I have decided for myself in my role is not to see failure as a defeat"
With so many years in the industry, it is easy to understand that there was room for both good and less good decisions. Jenny is happy to share the following:
– The best thing I have decided for myself in my role is not to see failures as defeats, which sounds like the worst cliché I know, but to pat myself on the back that I dared to try something new, that I have learned from it and will not to make the same mistake again.
She continues:
– I have made many bad decisions over the years. One example was not checking a keynote speaker's presentation more closely at an event we arranged for 1000 people. The session was a disaster and was painful to watch, and we got a lot of negative comments on the evaluation. I was super stressed and didn't have time to get things together. Stress and lack of time are often parameters when I make bad decisions.
The trends ahead
According to Jenny, AI will have a prominent role in 2023, and she believes that there will be a lot of exciting new insights into how we can use AI to simplify and improve our daily work. She elaborates:
– We will see new solutions based on AI technology when creating content such as presentations, ads, and videos based on one's brand profile with the right tone, colors, images, fonts, etc. This enables anyone to create "good content". Creating uninteresting content can also be challenging because it is so easy. I don't think that more content is the right way forward. There must be an explicit value for the recipient and a goal for the one who creates the content it should result in.
– I don't see we will do less in 2023, but marketing managers will adapt and personalize their strategies according to their target groups and personas. It will be a mix of the physical and digital world, where it is essential to reach out in an appropriate way that adds value to the person you want to interact with.
The pandemic affected most industries on a large scale. Trivec resides in one of perhaps the most affected industries, the restaurant industry. Although she admits that she has become quite tired of talking about the pandemic in particular, it is difficult to talk about trends and challenges in the industry without touching on this topic:
– We shut down operations in France for a year when no one was allowed to go out. Our customers were hit very hard when everything was shut down. We accelerated a product launch to enable our customers to sell and pay via QR codes. The positive thing that came from the pandemic is that digitization outside of restaurateurs and restaurants took off differently. Having team meetings and shopping online became every day for all people, which helped us when today we present new technical solutions that make it easier for the staff at a restaurant. They are more receptive than before.
She continues:
– We also see that the trend to pay with your mobile or swipe your card is snowballing. Sweden has always been far ahead, and several restaurants today are cashless. Still, even in France and Belgium, card payments are increasing, and it is becoming increasingly common to perform services digitally. It increases the demands from our customers on which payment solutions we can offer, such as Swish, Apple Pay, and Google Pay and what our tipping solutions look like.
Jenny concludes:
– The restaurant industry where we operate has been very traditional and not so digitized, which many tech companies have noticed, so we see new companies popping up every month. Still, we also see consolidation and mergers of companies. So it's an industry where a lot is happening right now.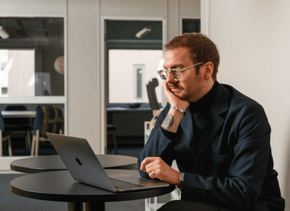 Emil Björnius
Emil works as a senior content marketing manager at Aimfor. Get in touch with him if you want help with moving your brand with storytelling.