Aimfor interviews Jesper Albansson, CMO at Ocean Outdoor Nordics, about how innovation characterizes one of the world's oldest media – outdoor advertising, what trends and challenges he sees in his market manager role moving forward, and how to approach building efficient and creative teams.
Jesper Albansson describes himself as a market person with roughly twenty-five years of experience. To the track record, we find a series of rewarded campaigns; for example, with the advertising agency Saatchi & Saatchi for Jeep, which won the DN Reklamcupen and subsequently reached the Golden Egg nomination for the "Min Helg" campaign. In 2022, he was part of the team that won the Grand Prix in Campaign of the Year and the Bronze Pencil award at The One Show in New York. He has been nominated for Inhouse Agency Manager of the Year as the icing on the cake.
Today he is CMO at Ocean Outdoor Nordics, a company that operates in OOH (Out of Home) and leads development in DOOH (Digital Out Of Home). In addition to advertising spaces in iconic places such as Piccadilly Lights in London, we have a digital impact, reach, murals and banners all over the Nordics and the Netherlands. Jesper admits that the marketing manager role is complex and has an enormous scope. Jesper elaborates:
– It's easy to get carried away and get stressed by having to keep track of everything related to the business. You shouldn't. That's the point of working in a team; to enrich and relieve each other through different skills and spheres of interest, preferably cross-departmental. Surround yourself with good people. However, it would help if you were open and up-to-date. There are plenty of opportunities, and a curious mindset allows you to value better, such as all the martech people want you to use.
Jesper talks about what he thinks the future will look like for CMOs:
– In the future, I think it will be necessary for the marketing manager to create an even deeper understanding of the sales department and nurture the relationship with those responsible there. They have direct customer contacts, which you, as a marketing manager, sometimes have in different ways. Conversely, you can identify new solutions and selling points because you have a different perspective; Attend customer meetings and presentations. It's rewarding and suitable for both the culture and the company's business. The marketing manager should spend more time collaborating with the company's CFO. From my experience, I know that it provides an essential basis for which angle of attack to take on various challenges. In a fragmented media landscape, relevant storytelling - also within B2B - in owned and earned media is still crucial, so I will emphasise that greatly.
"In an algorithm-driven world, the opportunities for organic spread slow down a bit for the vast majority, which is why it's exciting to try to find the right strategy"
We are halfway into 2023, and Jesper tells us that even Ocean Outdoor has AI in parts of its products. He believes that a healthy approach to technology is needed where we should have a consequential mindset and see AI as an aid to a solution rather than the solution itself.
When it comes to other trends he sees this year and beyond, Jesper puts some emphasis on the ever-changing media consumption:
– We know, for example, that linear TV can no longer be used alone as a reach road-blocker simply because people don't watch TV how they used to. Of course, other media respond to this, and advertisers and agencies will gradually shift the focus in media strategy work.
He continues:
– Tools are needed to create an effect where the audience is, which is probably one reason why anamorphic/3D content within Digital Out Of Home has become so attractive. We launched DeepScreen 2021 with a clear vision of how advertisers and creators can use this format to create a strong brand experience with viewers that they want to share with others via SoMe.
– Social media will, of course, continue to be necessary. The exciting thing is how marketers should use them. For the marketing manager, there currently needs to be a generally accepted answer to that. Most of the attractiveness is common to all social media; users (individuals and companies) want attention. In an algorithm-controlled world, however, the opportunities for organic spread are slowed down a bit for the vast majority, which is why trying to find the right strategy is exciting. It's about engagement optimization online and offline quite simply. Offline, advertisers who create such authentic and inspiring brand experiences that people want to engage with them will see more individuals on their own initiative creating content from what they are involved in and spreading it in social media.
The art of building creative teams
Jesper's goal is to build the best marketing department within Out Of Home based on i.a. innovativeness, creative height, production capacity and project management in relation to the team size. To do that, according to Jesper, first and foremost requires people with their hearts in the right place. It is then paired with competence:
– An essential criterion for optimizing a team that fits Ocean - but perhaps not all others – is combining convergent and divergent thinkers. When these meet, pure magic can occur with small funds, and we are not a company that makes significant investments in purchased media. When we recruit, we, therefore, try as much to understand how the person thinks and solves tasks as we value characteristics and skills that match the role.
Ocean is a fast-paced company where we mix strategic projects with generous deadlines and flash projects with sometimes extremely short lead times from idea to solution, which must be implemented quickly via owned channels, the sales team or earned media. It places demands on self-leadership on the individuals in the group and not least on the leadership.
We further reason around creativity and problem-solving. In crises, new, superb ideas tend to take shape - the corona pandemic is by no means an exception. Jesper elaborates:
– Human creativity can be applied to all areas of marketing and communication. I think it has made a strong comeback across the playing field and concretely gained a position as an influencer of business results. Even when the pandemic first took hold of the world, you could see a desire for innovation, which has only continued. However, the demands on creativity have been raised because the times are such that there is stress around the fact that, as a brand, you have to provide stimuli in an uninterrupted sequence. The amount of products and campaigns that are going out in different formats naturally, therefore, sometimes affects the quality, but generally speaking, the level is high in Sweden, and it is an exciting time for creativity.
– We also see that several people with an impressive creative track records have moved and are using their experience and know-how within, for example, sustainability projects.
His best versus worst decisions
In his role as CMO, there are two decisions Jesper feels particularly proud of, and they are not entirely surprising decisions where courage and desire for innovation play a large part:
– The first is that I pushed through the investment in an unorthodox, slightly bizarre and very humorous print design for Jeep. Car advertising had previously been relatively conformist, at least in Sweden. Jeep as a brand also had a clear but relatively narrow customer group and stayed within the framework of what is expected. We wanted to challenge the conventions and start a movement that would make the brand attractive to a partially new target group.
– The second decision is everything to do with the Digital Out Of Home campaign for Friends. I and the agency Perfect Fools worked on the idea and take of the campaign for a year before it went live. We let the medium be part of the storytelling, created great results for Friends and highlighted the campaign's core issue. The impact in deserved media was fantastic with, among other things, features in SVT, SR and commercial radio. The campaign won the Grand Prix Campaign of the Year and was awarded the Bronze Pencil at The One Show, NYC.
He continues:
– When it comes to bad decisions, I have made several decisions where the result was different than originally intended. They all have in common that I needed to spend more time on analysis or pressure testing the thesis/initiative/campaign. A concrete decision that did not have the desired outcome was an ambassador program for one of the car brands I worked with. There, I overestimated the importance of the names we worked with and underestimated the importance of activating the partnership so that the target group would relate and act.
Finally, Jesper shares his best tips for future CMOs:
– Trust your intuition. There are many keys, methods and models to use in the job, but do you ever have a strong feeling of taking an unorthodox path; dare to test. Then it helps to find one or more ballparks. You also need to understand the contact points between sales, finance and marketing. Finally, remember to exercise.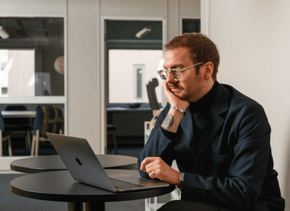 Emil Björnius
Emil works as a senior content marketing manager at Aimfor. Get in touch with him if you want help with moving your brand with storytelling.