When he was young, he wanted to be a cartoonist – the fact is that there was nothing else on the world map to do. Over time, however, it turned out that the cartooning business was less lucrative than he had hoped. Ensuring that website visitors have a good experience, on the other hand, is no frivolous compromise. Jonas Strandell is CMO at the content moderation company Besedo, and here he talks about his CMO journey.
Let's start by clarifying what content moderation actually is. Besedo, which Jonas works on, ensures that user-generated content created on various platforms is not offensive or inaccurate. Jonas describes it best himself:
- Imagine you go online to buy a bike this spring, you search and get 500 hits, but to get to an actual bike for sale you first have to wade through four pages of nudity, drugs, hate speech, etc.. Worst! With content moderation, we all get an excellent user experience online.
Jonas has a background as a marketing manager at Pingdom, a company that provides performance monitoring for websites. With approximately one million users, there were customers such as Apple, Facebook, Instagram, Google, Twitter and almost all the biggest companies in the world. Since February 2022, he has therefore been CMO at Besedo. When we talk about the marketing manager's role today, Jonas emphasizes that there are two different parts to emphasize:
– The most important part of the marketing manager's role is to roll up your sleeves and get the job done. A marketing manager who only knows the position in theory - but has never actually created their landing pages, agonized over how many recipients MailChimp will send to, wrote a few lines of code for the website to work, or tweaked Google Search Console on a Friday at 6 pm, they have little uphill. But of course, you don't have to have been a horse to be a good coachman.
He continues:
– The second part is team building. Admittedly, strategists and tactics are, of course, influential. But take a quick look at LinkedIn, and you'll realize you're up to your chin in such. Instead, build your team with people who do things and create value for the company in every part of their work. As the great philosopher Mike Tyson said: "everyone has a plan until they get punched in the mouth".
A good marketing manager is a good storyteller who helps simplify and educate – and also cares about doing it nicely.
"Building teams is one of the most challenging things you can do as a manager, but it's also one of the most fun"
When Jonas is asked to talk a little about the future, he admits that it would be the easiest thing in the world to say that we will see more AI and automation. It's the most apparent smash ball of the year. However, he believes that user-generated content will gain even more space from now on. He elaborates:
– If you look up, we will see even more user-generated content on all platforms. It doesn't matter if you consume content via YouTube, TikTok, Discord, Reddit or elsewhere. There will only be more to come. I love to observe people in their consumption behaviours. One of the funniest examples I've seen recently was when my 10-year-old bonus child was asked to describe how to show a phone with a gesture. Instead of pointing with one hand, thumb to ear and little finger to mouth, he held up both hands and moved his thumbs quickly as if to indicate he was sending messages - or playing.
He continues:
– It would be damn nice if we could see less of cold outbounds. Oh my God. Preferably pissed off a lot less by timed mailings like "Did you see the email I sent last week?" Imagine sitting in on a meeting in a conference room when someone says it's time to buy email lists and upload the extensive email canon. Then it's time to start handing out dishes.
The challenges going forward
What are the challenges, then? With many potential platforms, channel choices and strategies, knowing where to invest is not easy. Jonas develops his reasoning:
– The significant challenges at the moment are to balance where to put our gunpowder and efforts with where we get the most bang for the buck. At the same time, this is the most enjoyable part of working on the marketing side of a company - we get the chance to try so many things! It's a blessing to work on something where you can look at ideas you had months ago and think, "that wasn't that smart at all. What were we thinking there?" You can't be everywhere. Try to focus on a few things with measurable KPIs. Do these things and do them properly – measure and evaluate. Then on to the next one. Don't try to do 40 things at once; it just ends up half-assed.
Another interesting topic that also poses great challenges is spelt personalization:
– Personalization of marketing is a difficult nut to crack. Our content moderation industry is about creating use cases that the consumer can identify with. For example, it could be a problem you want to solve on your marketplace platform, dating app, or the game you're developing. Finding solutions to the challenges you face is incredibly valuable.
– It doesn't have to be marketing explicitly aimed at you who just watched five clips on YouTube showing how to make the world's best omelette and then talked on Messenger about frying pans with your partner. It's more creepy than it is personalization.
– It doesn't have to be marketing explicitly aimed at you who just watched five clips on YouTube showing how to make the world's best omelette and then talked on Messenger about frying pans with your partner. It's more creepy than it is personalization.
– The classic is when you buy a toilet lid on Amazon, and then Amazon presents nothing but toilet lids. Thanks, Amazon, but what on earth do you think about my toilet habits anyway?
Jonas's team has a handful of people, both in-house and on a consulting basis. In conclusion, Jonas gives some tips on how he thinks you, as a CMO should think ahead when it comes to shaping your marketing team:
– Building teams is one of the most challenging things you can do as a manager. But it's also among the funniest. If I could only advise one thing, it would be to look for people with "the thousand-mile stare". You know, those people who did many things and made many mistakes. Look for people who accidentally sent thousands of emails to customers with the subject line "test". Look for those who brought down an entire web service because they deleted a table in a database. You want these ones in the trenches with you when the bullets are whining. They've done this before and know exactly what must be done when it gets rough.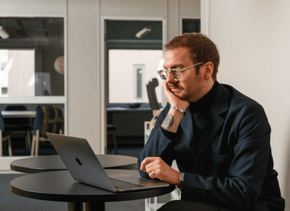 Emil Björnius
Emil works as a senior content marketing manager at Aimfor. Get in touch with him if you want help with moving your brand with storytelling.