With a background as a journalist, Anna Åslund has taken the step from the newspaper world to the startup scene. As CMO and founder of the interview platform Asker Technologies, she wants to change how companies can create more objective and accurate job interviews. In CMO Insights, she talks about her challenges and insights in the role of – a relatively new – CMO.
With a background as a journalist, Anna Åslund has worked for both local newspapers and national media. When she worked as an editor at Metrojobb, a brand under Metro magazine and then one of Sweden's most prominent career sites, she opened her eyes to issues related to the labour market, job search and recruitment. Anna says:
– The job as a journalist was incredibly educational and fun, but quite early in my career, I was curious about what it would be like to work on specific critical issues. It is impossible to do in the objective role of a journalist. When Metro went to the grave in 2019, I decided to go over to the "dark side", often called in journalistic parlance, and invest in marketing.
She continues:
– When I was working at the HR tech company Assessio, I met two of my three co-founders of Asker. We all had a dream to start and build a company. Our knowledge of the recruitment industry meant that we already had great insight into how companies work with job interviews, what challenges are connected to that, and which players were already on the market. That made us invest in our idea and start Asker in February 2022.
"Our main strength as a startup is that we are quick-footed and can change our focus in a second"
Asker is an AI-powered interview platform that helps fast-growing companies conduct more objective and accurate job interviews. They help Talent Acquisition teams and the hiring managers in the organization to set up and hold the best possible job interviews in line with the latest research and technology. Anna believes that the progress of AI will change the rules of the game for how the market will work going forward - not least considering that technology is a fundamental part of Asker's product. And given how much is happening in tech right now, Anna sees the CMO role changing with:
– It's a fantastic time to work with marketing in the startup world because so much is happening in tech now. Our main strength as a startup is that we are quick-footed and can change focus in a second. We always try to use that to our advantage. My role as CMO will develop in step and in line with the company, where my focus today may not include so many of the classic tasks that a CMO at a larger company deals with, says Anna, and continues:
– When other CMOs set a budget for the year, we discuss the price of our platform. When others lead a focused marketing team, my colleagues and I help with everything because we are so small. It's different, but I've never been in a space where I learned so much in such a short amount of time. Running a startup can be the best school of my life. In a startup, everything is about marketing, but at the same time, nothing is about marketing when you are developing your product. A challenge as a CMO is to identify the activities that make a difference to your brand at a stage where it is still too early to make significant investments in, for example, advertising, events and collaborations.
The future
Anna emphasizes that ChatGPT and generative AI are here to stay and will change the way we work with marketing, and if you cannot yet list at least ten uses of ChatGPT in your daily work in a marketing department, you are missing the train, says she:
– An effect of using ChatGPT will be that we will see less and less own content creation. We no longer need to spend time writing resourceful blog posts, social media posts and ads. ChatGPT can help with both inspiration and content.
– Today, I get most of my news and inspiration in marketing on Tiktok. It's not just Generation Z who share their most successful tips there; the app is full of experienced marketing veterans, influencers and "regular people" who contribute great insights. I hope that more people, especially those aged 50+, discover the bank of knowledge on TikTok.
– As more industries begin to explore Tiktok, I also think there will be more talk about "social SEO", i.e. how you get others to find your company in the app using the right keywords. I usually use keywords to see what I want, and companies must learn how to tag their content.
"Letting employees become thought leaders instead of focusing on pushing your product in the faces of your potential customers is a much more fun and sustainable strategy to work towards"
The trend around "social selling", i.e. developing relationships as part of the sales process, not least on social media such as LinkedIn, has wholly exploded in Sweden in recent years, at least if Anna's own LinkedIn feed is to be believed. According to Anna, we Swedes have understood the possibilities of reaching out with a message and selling our product without focusing on pure sales.
– It makes me incredibly happy to see CEOs of well-known companies active on LinkedIn and writing lively and well-thought-out posts. It shows that social selling possibilities have spread to the top of the organizational ranks. And if top executives need more time to write their posts, the perfect solution is to enlist the marketing team's help.
She continues:
– Social selling is advantageous when running a startup because few people know about you, and you need both salespeople and a marketing budget. Our primary channel to reach and talk to our target group is LinkedIn. Since day one with Asker, we have been active and involved on that platform. We write posts, get involved in what others write and are genuinely interested in learning from our target group. During our first months, 90% of all meetings we booked came from industry people seeing what we did through LinkedIn.
– Letting the employees drive the word and the debate about your company is a particular way to market a brand and get satisfied employees. Allowing employees to become thought leaders instead of focusing on pushing your product in your potential customers' faces is a much more fun and sustainable strategy to work towards. But social selling activities must be supported throughout the organization for the process to succeed. Writing posts on LinkedIn and being active in comment fields must be valued as highly as making cold calls for a salesperson.
Best vs. worst decision as a CMO
Finally, Anna shares her worst vs. best decision of the past year, related to her CMO role:
– My worst decision is probably that we focused on a far too broad target group at the beginning of the journey with Asker. We wanted to avoid losing essential people by not covering them in our language and communication, so we became too general. In a startup, you learn over time, and I certainly have.
She concludes:
– My best decision is a consequence of my worst, that today I dare to take out a magnifying glass and look at a super-specific smaller target group, where we can get more accurate results. As Asker develops and grows, our target audience will do the same, but at an early stage, the best thing you can do is scale down and focus on a few.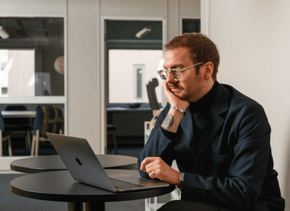 Emil Björnius
Emil works as a senior content marketing manager at Aimfor. Get in touch with him if you want help with moving your brand with storytelling.