Johanne Øiestad had her goal set on becoming a lawyer in her home country Norway. After falling in love with a Swede, she dropped out of law school and switched her academic course to media technology and marketing. Today, Johanne has a decade of experience in scaling SaaS companies, and for the last year, she has been working as CMO for the growth company Voyado. In CMO Insights, we talk a bit about her view on the future of the CMO role.
The role of the CMO has undergone significant changes in recent years. Nowadays, the job requires a broader range of skills and a more business-oriented approach. A few years ago, setting up lead-generating activities in B2B was enough to keep the sales team happy with warm leads to work with.
According to Johanne, today's market demands a deeper understanding of the challenges faced by the sales organization. Sales and marketing must work together, especially during tough times. The marketing organization must prioritize activities and solutions to drive sales across the finish line. The job is done after the ownership of a lead is transferred to sales. Johanne elaborates:
– Having dedicated my marketing career to growth marketing and demand generation, I have become increasingly interested in branding and brand-building activities. I know how to optimize the customer journey once we made contact with the customer, but I find it exciting to identify what drives sales before the first measurable touchpoint. This is an excellent example of why marketing needs to work closely with the sales organization: to gather qualitative insights about the customer journey from perspectives other than those we collect through data when the customer enters our marketing funnel.
Big data and AI
Johanne mentions they widely adopted big data and AI, machine learning, and automation to do the heavy lifting in 2022. Scaling their business using manual or rule-based logic is difficult; the data is too vast, too complex to comprehend, and changes quickly. Instead, they rely on technology, AI, and machine learning to identify patterns and insights that would be impossible to uncover manually.

– To sum up 2022 in one word, I would use a phrase like "relatable AI." The idea of using AI in marketing has been around for a while. Everyone has been discussing it, but few know how to implement it. A few years ago, in 2019, while working at Mynewsdesk, we surveyed data-driven marketing. The results showed that four out of five marketers did not know enough about AI to explain the concept to others. That's a long way from utilizing the technology in day-to-day operations. However, with, for example, ChatGPT, I believe that all marketers out there can finally see the significant benefits of AI.

What about 2023, then? Johanne sees a year where many will focus more on existing customers, and she explains why:

– I believe that in 2023, many will strongly emphasize existing customers, as retaining and scaling up the customer base is cheaper than acquiring new ones. Therefore, we need to prioritize activities that strengthen relationships and build long-term customer loyalty and make more structured efforts to increase referrals.

She continues:

– Once again, I am convinced of the importance of working closely with sales during tough times. When the budget is tight, CMOs must prioritize activities that contribute to the bottom line. Overall, we are moving away from the spray-and-pray approach. As B2C companies face increasingly aware customers, so do B2B companies. Today's buyers demand marketing activities with high relevance and a personal touch.
"Simply providing a product and a price is not enough — customers expect, or even require, experiences that go beyond those basics."
Johanne thinks customers have more choices and opportunities than ever, and companies fight for their attention and business. She explains what this will mean for marketers and organizations:

— Simply providing a product and a price is not enough, customers expect, or even require, experiences that go beyond those basics. Customers are impatient, and with everything being one click away, they have more power than ever. But we are not only compared to our direct competitors, but to the "best of the best" regardless of vertical or industry. Google, Spotify, Netflix, and social media feeds are personalized and relevant, making us spend more time on the platforms. With Uber, you quickly make a reservation and track your ride in real-time – instant feedback and without any uncertainties. Why should any brand experience be any less tailored or relevant?
She continues:
– The demand for increased relevance and personalized experiences explains the revival of demand generation in recent years – which essentially means creating a real need for your product through relevant and valuable experiences.
– When the customer is getting ready to make a purchase, we are top of mind, and they come to us. In practice, this involves moving away from classical lead generation and prioritizing broader, long-term activities that create value for the target audience rather than forcing in leads that are not yet ready or interested. The lead generation wheel does not turn like it used to.

Johanne mentions that one of her best decisions as a CMO is connected to hiring people who complement her skills. She needs a team with diverse competencies to challenge and question her decisions. That's how progress is made, according to her. So, what else is there to consider when forming a marketing team?
– Generally, I believe in central specialists complementing local generalists. Voyado has relatively complex products with many layers of value for our customers. However, this complexity can lead to long decision-making processes, a lengthy sales cycle, and a pipeline where the customer needs and journeys differ across our markets. Therefore, local expertise is significant for us. We need dedicated local marketing managers with cultural and industry knowledge to help drive sales through the funnel.

She continues:
– For a SaaS organization, prioritizing product marketing is a given. The entire company revolves around the product. Our product marketing team serves as an internal bridge between departments and adds value to all our marketing and sales efforts. Working on launches, product positioning, strategic narratives, and value propositions requires skills that deserve focus in marketing and product departments.
Tips to future CMOs
Last but not least, Johanne shares some pieces of advice for future CMOs.

– I have realized in recent years that the more I learn, the more I realize that I don't know it all. I'm not the only one with an ever-evolving role, but I feel that the role of a CMO has developed tremendously in recent years. Entirely new demands are being placed, and the boundaries between what marketing is and what used to be other functions are being blurred. Today, completely new parts can move into the marketing team to ensure a more integrated organization, expanding your leadership responsibilities.
– Today, marketing is vital to most companies, contributing to business development, sales, and overall success. Generally speaking, my tips for any new CMO would be:
Be curious about the industry, customers, and your colleagues to understand the business and what drives revenue.
Build a team with people and competencies that complement yours.
Find the proper focus, balance, and KPIs to work on value-creating activities that move the needle and take the customer across the finish line.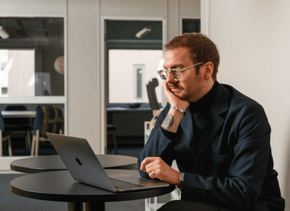 Emil Björnius
Emil works as a senior content marketing manager at Aimfor. Get in touch with him if you want help with moving your brand with storytelling.