Cecilia Lyche is trained in the experience industry and has been CMO at ESS Group for some time now. In our latest CMO Insights, she gives us her view of the industry's challenges post-covid, what insights she takes with her, how ESS Group work with personalization, and much more.

Cecilia Lyche began her professional career in the travel industry and later trained in the experience industry, focusing on project management and marketing.

After a few different tours in the media and as a partner at a digital marketing agency, she is since May 2022, Marketing & E-Com Director at ESS Group – a travel and experience company, including e-commerce and entrepreneurship.

The last few years have hit Cecilia's industry hard. 2022 was no exception, as the year began with, among other things, new covid restrictions and changed travel and socializing patterns. Cecilia talks a little about the challenges connected to her role and the insights she has brought.

– I bring a lot of insights with me. For example, realizing that you can only be everywhere or run some needed projects simultaneously. First of all, too fragmented work gives the feeling of being inadequate everywhere. You can refuse a lot that is put on you, or you choose to delegate to your employees. It is essential to realize that they should be driven forward than not driven at all. As a CMO, you don't need to be the best; you need to be the best at maximizing the team's joint output and results.


You have to dare to hire people who are better than yourself

With several challenging years behind her, we further discuss how Cecilia believes the marketing manager's role will develop, especially when discussing her role. As marketing becomes increasingly complex, Cecilia says that a good marketing manager must understand that he will never be able to master everything.

– You have to dare to hire people who are better than yourself. One must realize one's limits as a generalist and instead surround oneself with specialists, either in-house or via an agency. I think you need to find "good enough", without, for that matter, stopping being hungry for new technology and new opportunities. Never before has the pace been so fast, and as AI continues to develop within our guild, it will continue to grow.
The importance of personalization

The arrival of ChatGPT last fall has caused many companies to open their eyes to AI and its possibilities. Cecilia admits that the work with personalization is high on the ESS Group's agenda, not least regarding the work with their own CRM. She elaborates:

– We work hard with our CRM work, and our guest data is paramount for us to succeed and be relevant as we advance. We have spoken to all our guests more or less identically. And sometimes also in the same way as those who are not our customers. By controlling our data, we can be much more precise in our communication with intelligent content creation. We can now pinpoint what you thought of your stay and what you bought in the bar or which room you stayed in.

She continues:

– We do not believe that it is enough to be personal by putting the person's name in the header of an email, but the recipient must feel that we know who they are, what they value and how an experience with us can be even better for them. That is what we are working towards and with during 2023.


Time versus utility

Another trend scouting is within performance marketing, a significant focus area in Cecilia's role.

– We will see genuine incremental sales more within performance marketing, where I do most of my role. We need to challenge the short-term view of ROAS at the campaign level and focus on what uplift you can get, what sales we would have gotten anyway and what is worth spending extra advertising dollars on.

– Another challenge concerns content creation. The more personal and precise we can be with the help of our data and the increased knowledge and selection of our guests, the more personalized and unique content we can create. Then one has to ask where the limit is when the increased production volume and the work behind exceeds the benefit of the great content. When, for example, do five unique emails to five target groups (about the same thing) beat five different emails with different messages to the same target group? Is the production time for the five emails the same? It is an interesting question to keep with us going forward.

When it comes to the challenges for her team, then?

– The challenge I see ahead is that the team is large. With me, we are 18 people. The question I need to solve moving forward is how to divide the team smartly so that everyone can have a close leader but this does not cause us to lose standard momentum, production and quickness. Does anyone have any smart advice to give me here?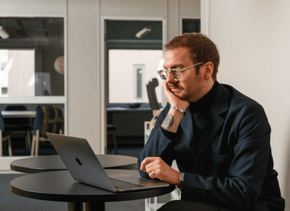 Emil Björnius
Emil works as a senior content marketing manager at Aimfor. Get in touch with him if you want help with moving your brand with storytelling.