Dennis Rydgren is CMO at Vinden, an intelligent digital storage solution with full service. In CMO Insights, he shares his top tips for CMOs and marketers, his best and worst decisions of the past year, and how to get the most out of shrinking marketing budgets.
It all started at the university where Dennis Rydgren lectured on communication on the internet. Since then, he has worked as a digital advisor for public intellectual Steven Pinker, spending around six years at agencies with a focus on both paid media and creative. In recent years, he has worked as CMO at several different companies, and just over two years ago, he took on the role of CMO at Vinden, a company focused on intelligent storage solutions.
2023 is a year that started tough for many companies. Among colleagues in the industry, Dennis has noticed that many want to shift focus and budget from performance marketing to more traditional branding. Dennis elaborates:
– Marketing managers need to return to measuring more awareness and consideration before CPC, CTR and other measurement points. For me, it's more and more about the fact that you have to get better at building a long-term brand after a period of high performance.
He continues:
– I also see the increased value and a focus on quality before quantity around all digital content. This makes me genuinely happy, and many market managers, including me, embrace this development. The challenge will be to produce excellent content at all levels cost-effectively. We also need to continue to learn about tech in the context of AI. The challenge will be to know which tools are available and how to apply them to your unique business.
2023 will be an exciting year for marketing managers who like to study innovation. I have already started a project around how to produce mobile with the help of AI.
"Let me say this, read Daniel Kahneman's book Thinking Fast and Slow, especially the chapter on project planning and acting accordingly."
If 2023 is characterized by technological innovation, perhaps "messy" can summarize last year. When asked what the worst versus best decision Dennis made in his role as CMO: – The best decision I made was to become more hands-on, learn basic design and UX, and rely more on my own skills as a copywriter. This has meant that I, as CMO, can work closer to various specialists in more internal and external areas. I always thought to brew what the media agency does versus the advertising agency. This is to be able to work operationally to realize strategy and brand.
And the worst:
– My worst... Read Daniel Kahneman's book Thinking Fast and Slow, especially the chapter on project planning and act accordingly. Good non-core ideas consume time and budget and always carry more risk than you think, even when calculating conservatively. At the same time, you have to test things. Holding back is often a challenge for me.
The foundation of modern marketing
The first era Dennis experienced in the digital realm was about creating viral content. Then the data-driven and "growth hacking" took over, and now everything was more about optimizing paid media and identifying shortcuts to the target group. According to Dennis, targeting is still ongoing, but the algorithms are optimized for paid media.
– Performance marketing is hindered by increasingly complicated tracking, and the shortcuts are generally known or regulated. Now AI seems to be what will solve the market manager's dilemma, so we can probably see 2023 as the start of this trend. Finally, I think all of the above is the basis of modern marketing and something that you should understand essential components of for many years to come. It sounds boring, but it's more about integrating the best from above with new innovations that suit what you're marketing.
He continues:
– ChatGPT is exciting, speaking of trends. If you look at AI in general, several exciting tools will contribute a lot around, among other things, content creation. I'm looking forward to it. Rob Hoffman at LinkedIn is good at pitching new opportunities.
– One last thing I also thought a lot about is websites. When will we see web pages that are fully or partially automated for the visitor? Scrolling, selecting tabs and clicking around will soon be seen as highly outdated. Say what you will, but booking flows, menus and text do not create the user experience I see going forward. The whole website may be like a chat in a few years.
Trends for 2023
According to Dennis, there are two types of factors that influence trends. One is the state of the world linked to purchasing behaviour. According to him, Covid-19 and the criminal war of aggression against Ukraine have affected a lot. From discussing disruptive marketing to adapting marketing to extensive changes in society. So, what is the other factor?
– The second type is significant changes such as lower traceability online and, with it, more considerable uncertainty about what the big tech giants will charge customers. Online behaviour is also changing rapidly, where Meta is not nearly as strong as it used to be. At the same time, TikTok is not a given option depending on the target group, and a platform you shouldn't use now that ethics and responsibility are becoming a real issue.
– Smaller budgets must be used more efficiently because of the pandemic and other consequences stemming from today's economic situation. It creates exciting questions about quality, creativity and, not least, how you best use your data, leads and existing customers, etcetera. Certain elements that used to be part of growth hacking are now a must in fighting for customers with lower budgets and reduced purchasing behaviour. Dennis is generous with tips and makes a last note to new CMOs: – Be curious about the new, but reward putting it in a toolbox and keep the business focused on optimizing what already works. Should you test? Absolutely, but then you must first revisit what you learned when you read Daniel Kahneman.
– And if you want to get a feel for trends, I think Tony Hammarlund's podcast Digital Marknadsföring is good. I mean that he offers long conversations about various trends and updates concretely, together with a great community where I feel that knowledge is at the centre. Thanks, Tony!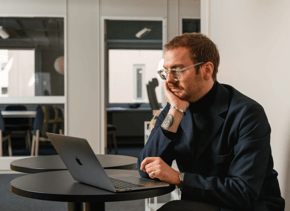 Emil Björnius
Emil works as a senior content marketing manager at Aimfor. Get in touch with him if you want help with moving your brand with storytelling.