After studying in the USA and spending a few years as a professional basketball player, Kamran Alemdar has worked in communications and marketing for the past 17 years. Today he is the CMO at EQT-owned GlobalConnect, one of Northern Europe's largest providers of digital infrastructure and internet services to private consumers and businesses. We had a chat about why he believes companies will be more cautious in their marketing efforts, his philosophy on building the marketing team of the future and the importance of personalization.

You may have heard of IP-Only if you live in Sweden, Homenet if you live in Norway, or Onefiber if you live in Denmark. GlobalConnect may not be as familiar because that brand has until now only targeted the enterprise market. The company's B2C brands, IP-Only, Homenet and Onefiber, were recently re-branded to GlobalConnect, now using the same brand name throughout the group for all customer groups. Kamran Alemdar has been CMO for four years.

Previously, he was the Global Marketing Manager at Klarna and prior to that, Head of Communications at mobile phone operator Three Sweden. Before that, he worked with PR and communications on the agency side, at, among others, Jung Relations and Cohn & Wolfe (today BCW), where at the latter, he had a role as Creative Director. The experiences from the agency side have been particularly relevant in the re-branding journey Kamran led recently, merging GlobalConnect's different brands into one

Kamran elaborates:

"Changing and harmonizing our brands into one, by re-branding our consumer brands to GlobalConnect was the biggest thing that happened in 2022 and my most important decision as a CMO. Having one brand means lots of synergies. We went live now in January, but the decision was already made last fall, so it went quickly. GlobalConnect is a brand we already use in the B2B market in all the countries we operate in, and in the long term, this is a significant upside.
The art of building a good marketing team

Kamran had his employees help him on the journey. Setting up an entire marketing team with different skill sets, input, and experience is, of course, not easy, especially when you are faced with such an extensive project as building a strong brand and generating growth. However, Kamran has a clear philosophy when it comes to shaping a solid team:

– For me, building a diversified team that complements each other is essential, where everyone has different starting points and views on how best to boost the business with the help of effective communication. Different energies, areas of expertise and competences are vital. On the other hand, I would like to see that everyone has a genuine curiosity and greed for knowledge. That is a necessity for us, in order to continue and develop; it needs to be present naturally in every individual and something that I, as a leader, need to encourage and try to trigger.


"New technology is often meaningless until it adds real value -
although it is kind of cool."

2022 was an eventful year for GlobalConnect. And for the industry at large, we saw the entry of AI chatbots, and there was also widespread talk about the value of personalization in marketing and communications. When Kamran is asked which word best sums up 2022 for GlobalConnect, his answer starts with technology in particular:

– Buzzwords in our industry are almost always synonymous with technological innovation, and new technology is often meaningless until it adds actual value, even if it can be cool and cutting-edge. However, it can at times be tricky to clearly distinguish and understand when this is the case.

He continues:

– Having said that, it must be AI, I think, even though it has been talked about for a while and the technology has been available. Only recently, we've been seriously able to apply AI technology in our field of work, generating greater output is better and more efficient processes. So with AI applications becoming so accessible and the wow factor becoming so evident, I think AI is worthy of being crowned the buzzword of 2022.


The importance of personalization

Kamran admits that personalization is high on GlobalConnect's agenda, and they have made great strides during the past year. The main focus has been on its B2B business, where the decision-making processes can often be long. And with the increased importance of personalization in communicating towards end-consumers, it is to no surprise that a significant focus lies here.

– Therefore, it is vital for us to create a personal and tailored experience throughout the customer's journey, both before they become customers and during. Today's B2B customers expect a curated, appetizing and straightforward experience, just like private consumers do today. When we succeed, it contributes enormously to how we and our services are perceived and thus builds loyalty, which is worth an incredible amount. But with that said, we still need to develop areas within personalization to be competitive.

"Associating with people who can say or do things that don't align with the corporate agenda or is too provocative is simply too risky"

Finally, we briefly discuss the future and what Kamran thinks will characterize the year 2023. Employees will be in focus in a completely different way than before, according to Kamran, who develops his reasoning:

– I think employee influencers are well-suited as 2023's buzzword. Working in a structured way with your employees so that they become effective message carriers that promote their employer and their services via their channels, will become increasingly sophisticated and become part of every marketer's market mix in the coming years. Primarily since the credibility, effect, accuracy and reach that can be achieved via employee's channels are so strong, which is becoming increasingly important as reaching through the noise in more traditional channels becomes tougher by the minute.

He continues:

– I also believe in more conscious communication and marketing and alludes to events happening in our surrounding world. Above all, the threats we're constantly exposed to in the media and our digital feeds. To some extent, I believe it will be driven by the fact that companies today do not want to be perceived as tone-deaf or out of touch with reality, but of course also to ride the wave of topicality, to improve their chances of reaching out and appealing to their target group with relatable and reassuring messages.

– I believe we will see greater caution and a slowdown in collaborations where high-profile influencers front big companies in their marketing efforts. Associating with people who can say or do things that don't align with the corporate agenda or is too provocative is simply too risky, as we've seen quite a few examples of, and thus not worth the risk of associating with them. In addition, credibility has never been more critical, and it can be challenging to achieve with people who are perceived as "bought". On the other hand, I think we will see companies working increasingly with micro and medium-sized influencers at larger scale, as it's less risky and you are not as vulnerable. At the same time, relevance and credibility is stronger.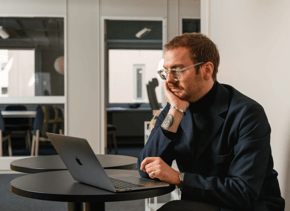 Emil Björnius
Emil works as a senior content marketing manager at Aimfor. Get in touch with him if you want help with moving your brand with storytelling.