Johan Gertell, CMO at Mathem, about the importance of the brand harmonizing with your product, how many companies' financial situations will affect marketing in the future, and why it is more important than ever for brands to be relevant in their communication.

He describes his background as relatively broad and says he thrives best in the borderland between sales and marketing. Preferably in a digital context. Since 2020, he has worked as CMO at the billion-dollar company Mathem. However, he comes from the startup world and co-founded 13th Lab, a VR/AR company that was sold to Facebook, and Kenet Works, a mobile social software company that was sold to Yahoo.

And maybe his background suits Mathem particularly well. E-commerce is constantly in motion, and as a CMO, he must continually keep his ear to the rail. He admits that the role of the CMO is changing faster than ever.

– The marketing manager's role is becoming broader and broader, which of course, places even higher demands on competence. Your brand, communication and customer lifecycle must harmonize with your product or service entirely differently than before.

According to Johan, greater responsibility also means greater demands to work more efficiently across different departments. He explains:

– For us, it requires working cross-functionally and data-driven to succeed in attracting new customers to shop online. Still, it's also about changing habits and behaviours to shop repeatedly and frequently.
"The streamlining and automation of marketing will accelerate"
The last few years have been tumultuous for the vast majority of companies with the external factors that shook us. And when we talk about changing economic conditions, Johan believes that automation and AI will play a huge role for the marketers of the future. He elaborates:

– Given the economic situation, the efficiency and automation of marketing will accelerate in favour of digital channels, personalization and the use of Machine learning and AI. Both to get better ROI and cost savings but also because customers expect a better customer experience and are tired of spam.

He continues:

– At Mathem, we have an excellent foundation and have come quite far in certain areas. One area that I think we will talk more about in 2023 is the automation of content and communication.


Higher relevance
Mathem operates in an industry that has recently exploded in popularity. Today, there are no longer one or two different options. Grocery bags can also be ordered from food giants such as Coop and Willys. Getting through the noise in a market with both fierce competition and ever-shrinking margins means that you have to be smart in your communication. That is why Johan is convinced that relevance is now more critical than ever:

– How companies communicate is, of course, becoming increasingly important. That you are relevant but also engaging, entertaining and exciting, it is required to get through the noise regardless of the channel or form of activation.

To break through the noise, Johan also depends on his marketing department. When it comes to what you need to think about in recruitment, he once again touches on the importance of working effectively between different departments.

– Not creating silos but building an organization that is quick-footed and can work cross-functionally is essential for us. We have most of the capabilities and competencies in-house, then supplement with the best suppliers and agencies when we are not scaling. I am very proud of the team we have built - I have such extraordinary employees.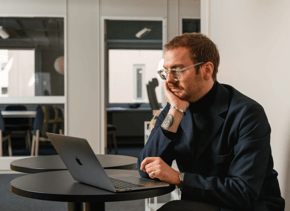 Emil Björnius
Emil works as a senior content marketing manager at Aimfor. Get in touch with him if you want help with moving your brand with storytelling.