Erica Wärme is CMO at the consultancy Sweden HR Group. As the only person in the marketing department, she must master many different disciplines and bring all the other market parts together - but how should one think as a CMO when specialist knowledge is unavailable in-house? In CMO Insights, she talks about her thoughts.
With a bachelor's degree in econojmics specialising in marketing, Erica Wärme started as a sales and marketing coordinator at Sweden HR Group. In this consulting company, she later had the opportunity to take over the entire marketing responsibility. Her broad role includes strategy and operational marketing work, which she values highly.
As the only person in the marketing department, there are some challenges. She explains in a little more detail how they think about the market function:
– We have chosen external partners to get specialist expertise and help where needed. In this way, we get the right skills for the right task. For example, it could help with web design or help with Google Ads ads. Designing a marketing team with external consultants is for us the most time-efficient and creates the function of an entire marketing department.
"It is important that you as a marketing manager
collaborate with the sales manager"
As CMO, Erica, therefore, needs to master both the strategic part of marketing, as well as the active part - while she collaborates with external parties to bring a whole together. She develops her reasoning when we get into how she sees the role of CMO growing:
– The marketing manager's role will develop to function as a strategic compass. Setting a direction for the marketing team to be creative and know where we are going. Clear leadership will therefore become even more critical. The marketing department is growing into more and more areas where people are specialists, and it is crucial to keep everyone together so that the marketing work produces results that align with the business goals. For a marketing department that is small, like mine, it is essential to prioritize correctly to affect the marketing work.
She continues:
– It is also vital that, as a marketing manager, you work hand in hand with the sales manager to create efficiency and processes that connect the work of both. We must remember that B2B business is done between people, which is always about safe purchase decisions. Therefore, internal collaboration needs to be connected between different departments to realize the value we promise our customers. By creating trust-building relationships in the meeting with the customer and before, with the help of marketing, we can create the trust that helps our business move forward.
Challenges in the consulting industry
The consulting industry is significant in Sweden, and the competition is tough. For Erica, one of the significant challenges is that the need for their services is only sometimes there. She elaborates:
– When the need for our services arises for our customers, we want to be top of mind. Creating trust and building a brand, therefore, becomes incredibly important. The challenge is often that we do not see results directly from our various marketing efforts, but it is and will be a long-term and ongoing process that constantly needs to be nurtured. HR is also extensive and can be found in all industries, which can sometimes be challenging when we have to create targeted advertisements.
Erica believes that AI will characterize 2023 and that we will see even more of how AI can help us in our everyday work. She also believes that the economic situation that affects many industries will have significant consequences, not only now but also in the long term.
– When the economy worsens, history shows that trust in institutions and companies deteriorates. Therefore, it will be extra essential to create marketing that demonstrates reliability and competence, building trust. The economic situation will also make more people invest in targeted marketing instead of mass marketing. Quality over quantity, quite simply. It is crucial to invest in the right platforms for one's brand. Tiktok may be on everyone's lips, but is it suitable for your brand? Is your target audience there? It will be necessary to not just go with the flow and sow seeds everywhere – but instead, nurture and care for fewer platforms and let them mature.
Erica continues:
– Instead of striving for quick results, the focus will be on long-term branding. We live today in a recommendation society where we rely on other people's recommendations rather than an advertisement. More businesses will benefit from each other's networks and help each other forward in this time. People buy from people, and having someone to reinforce your brand positively contributes to sales.
Finally, Erica offers a piece of advice for future CMOs:
– I would send the meaning of constantly developing. Both when it comes to skills and characteristics. It is essential to take personal responsibility for one's development and have a management that provides an opportunity to develop. The effects of a learning culture are massive and create many good conditions for always having an ear to the rail and being at the forefront. To do good work, both today and tomorrow, time for development is essential.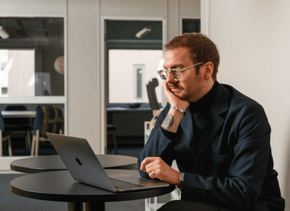 Emil Björnius
Emil works as a senior content marketing manager at Aimfor. Get in touch with him if you want help with moving your brand with storytelling.